Interviewer asking you silly job interview questions? Give 'em funny answers!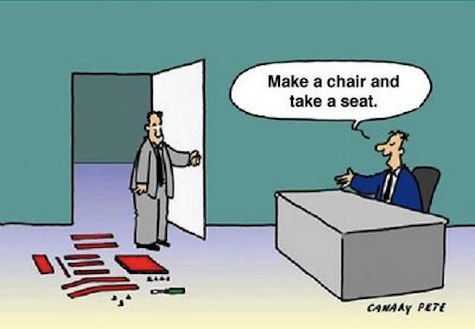 Why do some interviewers ask silly job interview questions? You've probably all gotten at least one. While some silly questions are disguised as serious ones, others are just flat-out ridiculous. Of course, WE would never ask any of these types of questions, but most human resources managers who have conducted countless interviews will admit that it's pretty entertaining to ask off the wall questions and see interviewees squirm.
Because there really can't be a right or wrong answer to these crazy questions, take the opportunity to show your sense of humor and quick wit, which will most likely be pretty impressive. Then, maybe you can even sneak in a little valuable information.
Q: What is your biggest weakness?
A: You'll probably get a few laughs if you say something like, "Chocolate" or "pizza" but follow up with something a little more serious. "I'm a workaholic" is so often used it's almost cliché, but you could change it up a little by saying that you tend to get too involved, care too much or that you are a perfectionist.
Q: If you could be any vegetable, which one would you choose?
A: "I would be a member of the Brassicaceae family of healthy cabbage, broccoli and Brussels sprouts, because if you hire me I'd be so good you for your company AND your cholesterol." Cheesy, yes. But maybe a little better than sitting there staring blankly trying to figure out if this is actually a real question. Just go with it, and in doing so you'll show off your extensive vocabulary and ability to think on your feet, which is what they are REALLY after.
Q: How many golf balls fit into an airplane?
A: With a laugh, tell them they might want to hire a consultant on that one, but that you love to be challenged with a good critical thinking problem that requires you to research and figure out the right answer.
Q: Have you ever lied?
A: No. Is anybody really going to say yes? If the interviewer doesn't get the humor in this question, they may not get the humor in your answer, but saying yes is probably not a very good idea.
Q: If you were a cookie, what cookie would you be?
A: Tell them you would be one smart cookie. Again, hopefully you'll get some laughs, but then use this opportunity to mention your most noteworthy accomplishments and awards.
We'd love to hear about some of the silly job interview questions you've been asked, how you responded, and how that went over with the interviewer.
Leave a Comment so far
Leave a comment